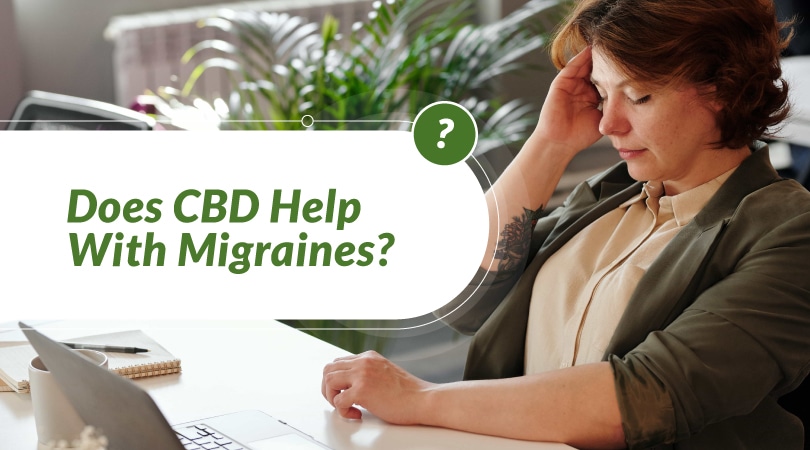 CBD for Migraines: The Increasingly Popular Natural Remedy
"Despite the fact that more than one billion people are living with migraine worldwide, it has historically been overlooked as one of the most disabling diseases on the planet." – American Migraine Foundation
Unfortunately, this is the sad reality of migraines. Though a large portion of the population suffers from them, there's often not enough education or awareness surrounding them. And since the symptoms of migraines can affect a person's physical, emotional, and social aspects of life, the need for a natural remedy is crucial.
While there is no cure for migraines, CBD may be a great solution to help manage and reduce the symptoms. Keep reading to better understand how CBD could help alleviate this global issue.
Does CBD Help with Migraines?
There are multiple preliminary studies that suggest that CBD may be beneficial for migraines. In a 2020 survey, more than 86% of users saw improvement in chronic headaches after consuming CBD oil.
Another 2021 study backs up this statement:
The review article shows encouraging data on medicinal cannabis's therapeutic effects on alleviating migraines in all of the studies reviewed. Beneficial long-term and short-term effects of medicinal cannabis were reported. It was effective in decreasing daily analgesic intake, dependence, and level of pain intensity. Some patients experienced a prolonged and persistent improvement in their health and well-being (both physically and mentally) after long-term use of medicinal cannabis.
Though this study focuses on medical cannabis, it also displays the potential of full-spectrum CBD oil, which contains THC, CBD, and all of the other beneficial cannabinoids of the hemp plant.
Even more, it's important to note CBD's potential role in helping an individual better manage the symptoms of migraines. CBD has a long history of being a natural pain reliever, making it an effective treatment for a number of conditions, with migraines being no exception.
The neck and joint pain often associated with migraines could benefit from these pain-relieving properties, while CBD's ability to reduce nausea and inflammation also works to decrease the impact of migraines.
Another important aspect of choosing CBD as an aid is its role in helping individuals reduce their consumption of prescription medication. As stated in this study,
Patients utilizing medical cannabis for migraine have reported improvement in migraine profile and common comorbidities. Reduction in prescription medication is also common, especially opioids. Side effects exist, with the majority being mild. Not enough data is available for specific dose recommendations, but THC and CBD appear to mediate these observed effects. 
The ability to stop relying on heavy medication and opt for a natural alternative makes CBD a great option for those concerned with enhancing their wellness routine.
What to Know About Using CBD for Migraines
While studies are still limited on CBD for migraines, it shows great potential for reducing its impact and resulting in lasting benefits. For the best results, consider these 3 tips:
Take CBD when you feel the pain coming on

: If possible, consume CBD the moment you start to notice the symptoms of a migraine. Some specialists claim that CBD works best before the onset. If you have any triggers, such as stress from work or weather changes, then you may be able to time it so that you consume CBD before you notice any symptoms.





That said, you can take CBD at any time throughout your migraine, so don't worry about missing out on the benefits even if you don't take it at the very beginning. And since some migraines are sudden and unexpected, it's best to keep your CBD oil in your purse or backpack.

Choose a full-spectrum product

: There are 3 types of CBD products you can choose from. CBD isolate is pure CBD; broad spectrum contains all of the cannabinoids in the hemp plant minus THC; full-spectrum has all of the cannabinoids in the hemp plant, including THC (up to 0.3%).





Full-spectrum CBD offers the maximum benefits of the hemp plant, making it the best choice in terms of minimizing the symptoms of migraines. Read

our previous article

to learn more about full-spectrum CBD products.

Choose a high-quality product

: Quality CBD oil is key to optimal results. You should look for a product that uses high-quality ingredients, has a USDA Organic Certification (you can see ours

here

), and has been tested by a third party. At Vitality, all of our products

have been tested

to guarantee that each consumer has access to CBD products that are extremely pure, potent, and effective. 
If you're interested in finding a natural remedy for your migraines, check out our full-spectrum, organic CBD oil. Order now and use the tips from this article to get the best results from your new product.