CBD is a very versatile product; it's used in many different industries, and it even comes in various presentations.  Although there are different ways to incorporate CBD into your daily routine, CBD topical cream is one of the popular choices.  There are many advantages of using CBD cream, such as pain relief.  To better understand how to use CBD topical products for pain relief, we must know why it works, how to use it, and how to choose a great topical cream.
What Is CBD Topical Cream?
CBD cream is an ointment made from compounds that are extracted from the cannabis plant.  These components, which include CBD and other beneficial elements, are mixed with different types of oil to create the cream.  At Vitality, we use high-quality and organic products in order to enhance the benefits of our CBD salve.  We combine organic grape seed oil, castor oil, MCT oil, CBD oil, beeswax, and eucalyptus essential oil to get the maximum benefits.
How CBD Cream Works
Unlike CBD oil or edibles, CBD cream does not have body-wide effects.  Instead, it works locally, depending on where you put the cream.  The reason that CBD promotes pain relief is that it works together with the endocannabinoid system.  When the system is exposed to CBD, the system becomes reactive.  This helps it affect different processes in the body, including pain.
How to Use Topical CBD for Pain
The advantage of full-spectrum CBD salves is that it begins working almost as immediately as it's absorbed through the skin.  It's also super easy to use; all you have to do is apply a generous amount to the area(s) where you're experiencing pain.  For the best results, massage the cream into your skin.
It's important to remember that CBD salves are for external use only.  This means you should not use it on any open wounds or sores.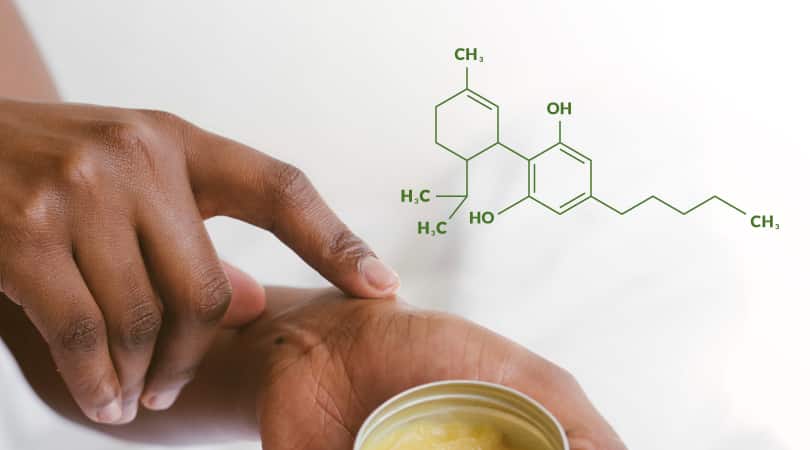 Other Benefits of CBD Cream
Aside from pain relief, CBD cream can be used to help with other ailments as well, including:

Skin Inflammation: CBD has a high concentration of anti-inflammatory properties. In fact, this is another reason why CBD is a great resource for pain, as inflammation can be the root of the problem.

Eczema Symptoms: Anyone who suffers from eczema will tell you that it makes their skin red and uncomfortable.  Although there is no cure to this condition, the antipruritic and antimicrobial matter in CBD helps users avoid the symptoms that are related to it.

Relax the Muscles: A

study in 2020

states that CBD can help reduce muscle soreness and tension due to its anti-inflammatory, neuroprotective, and analgesic properties.  This means it's a great option for anyone who is actively doing strenuous activity.

Dry Skin: Many skincare products use harsh chemicals that end up damaging the skin even more.  Organic CBD salve, on the other hand, uses ingredients that are beneficial and promote the natural production of oil on the skin.
CBD has a wide range of benefits, with one of them being pain relief.  At Vitality, we only use high-quality ingredients because we care about the products that we put on our skin.  To learn more about our CBD salve or any of our other products, please contact us. 
At Vitality CBD, we offer organic, full spectrum CBD oils and salves, which are tested by third party laboratories to ensure high quality. Visit our products page and select the product that best adapts to your needs.