---
As an informed consumer, you deserve to be able to access the lab test for any CBD product that you purchase. This lab test is done by independent labs for companies. Of course, not all companies conduct third-party tests. Vitality CBD uses a third-party testing facility for all of its lab tests needs. These tests result in the generation of a Certificate of Analysis, easily accessible by Vitality CBD customers.
---
What is a Certificate of Analysis?
---
A Certificate of Analysis (COA) is a scientific report for any substance. When scientists analyze the chemical properties of a substance, they report their findings via the COA. In the case of CBD, the COA plays an especially critical role. It's important that vendors and consumers fully understand what comprises the makeup of CBD products that are sold and used. The COA covers a broad range of concerns, and is infinitely helpful for both purveyors and their customers. Because publicly-available CBD products are relatively new, the industry is not yet regulated as well as it might be. Certain online stores have been found to be selling CBD products that are mislabeled or which have substantially more or less CBD than is advertised, according to a recent study. Using CBD products without accurate information about their ingredients and chemical makeup puts consumers at unnecessary risk of experiencing adverse side effects or other ramifications. The oversight for CBD products may be still getting up to speed, but consumers can help protect themselves by learning how to read CBD lab reports, or COAs.
How to Find COAs for Your CBD Product?
---
Of course, it doesn't help to learn how to read a COA if you don't know where to find this documentation. At Vitality CBD, every CBD product we sell is packaged with a QR code. A QR code is an encrypted symbol that can be scanned with any QR reader app in a smart phone. This is the same reliable technology that distributors and manufacturers use to organize and manage their logistics. A great deal of data can be stored within the QR code, making it an easy way for consumers to access the COA for their CBD product. You can find your Vitality CBD QR code on the side of the box that our products are packaged in. Simply hold up your smart phone, scan the QR code with your app and the COA will open up for you. Next, learn how to read the COA.
---

---
---
At Vitality CBD, we use a reputable third party lab to test the quality and ingredients of our CBD products. There is no overlap of interest. This helps to ensure the accuracy and genuineness of the report findings. Following are the most important things to look for when reading a COA report:
---
The first item you should look at is the pass or fail status. This should be a Pass status, as indicated in the screenshot here from page three of a VitalityCBD Evio Labs COA. This status means that the product passed the tests for correct ingredients and the amounts of those ingredients. It indicates that the product is not adulterated or contaminated with ingredients that shouldn't be there, such as arsenic, cadmium, lead or mercury, microbials and other toxins.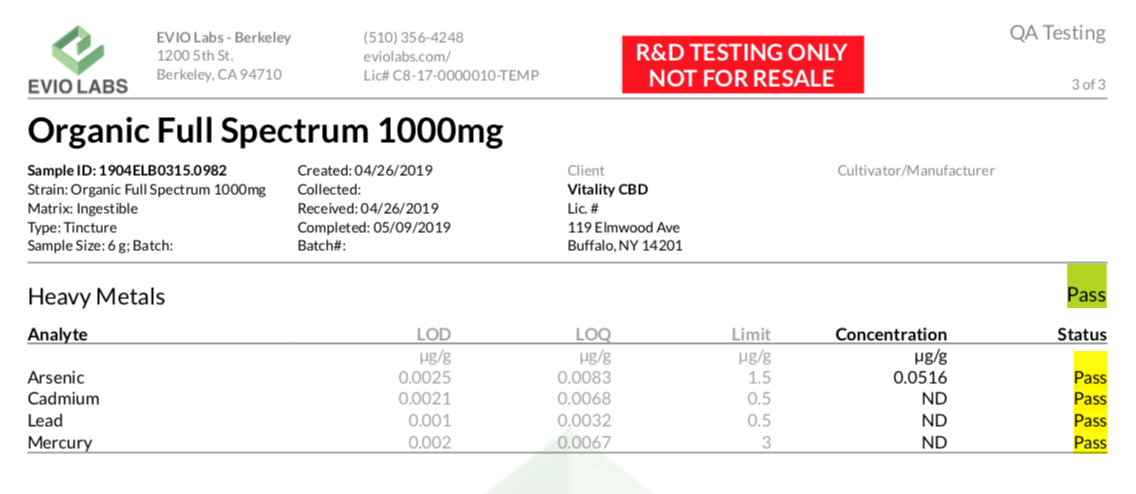 ---
Next, you should look at the Total THC levels for the product. Only trace amounts of THC are legally permitted in CBD products sold in the U.S. THC is the compound responsible for that "high" that is associated with marijuana use. Quality CBD products won't get you high, because they contain only trace amounts of THC. But you can verify that your CBD product adheres to legal limits by reviewing the Total THC levels on the COA report. Review the screenshot below, taken from the very first page of a sample COA report offered by Vitality CBD.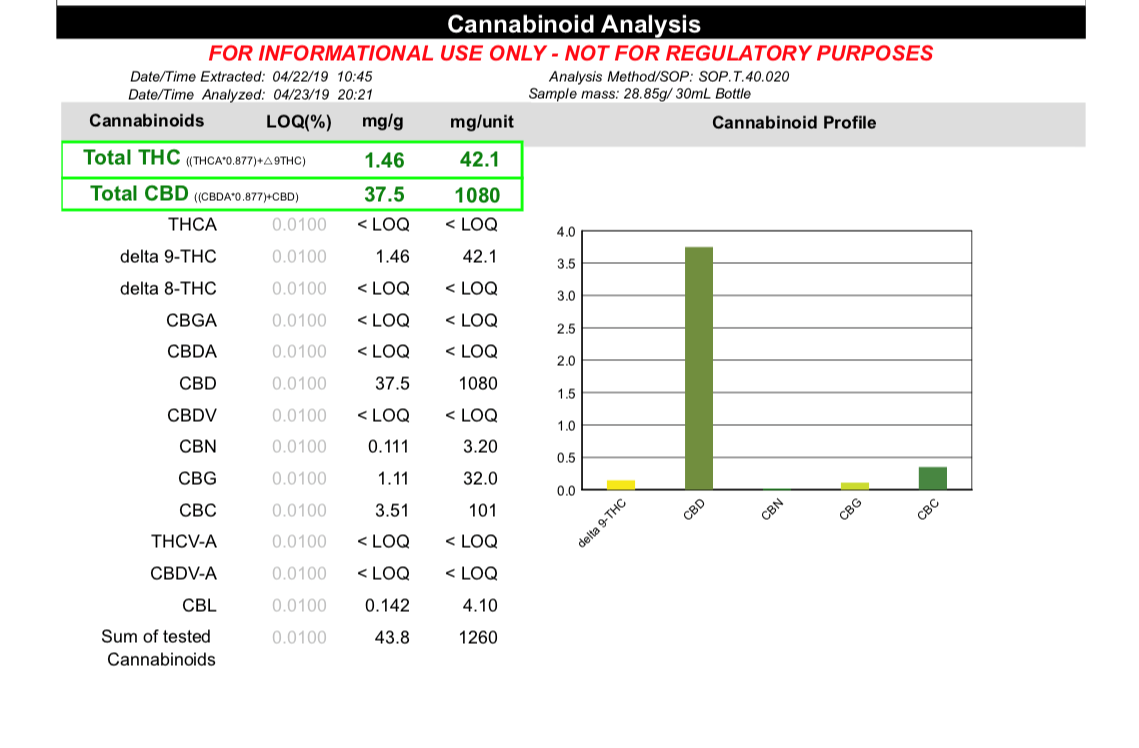 ---
In this same screenshot above, you can clearly see how much CBD is in the product. This is especially important because, as mentioned earlier, come companies are selling CBD products with very little CBD. This makes it challenging to achieve the desired results when using that product. If the product doesn't actually contain as much CBD as you were led to believe, you may falsely believe that CBD doesn't work; whereas, if you had quality CBD, you might find it highly effective. You can also check the levels of ingredients of all the other compounds in the product, such as CBL, CBGA, CBG and more. On the screenshot below, you can see that the data is provided in both table and graph formats, for easy reading and comprehension.

Confirmation of Full Spectrum
---
In the world of CBD products, there are two main kinds; full spectrum and isolates. Full spectrum CBD is believed to have more therapeutic compounds than CBD isolates. CBD isolate contains only CBD compounds, whereas full spectrum CBD products contain CBD molecules, but they also contain trace amounts of THC, CBG, CBN, CBC, CBDA and THCV. Full spectrum CBD products are considered a premium type. When you have all these ingredients working in synergy, something called the entourage effect happens. The sum of their effectiveness becomes greater than their individual effectiveness. So the effectiveness comes about from the way these multiple compounds interact with each other. This is why, whenever possible, you should choose full spectrum CBD products. As you can see in the screenshot below, this sample COA report from a Vitality CBD product is indeed full spectrum.

Confirmation of Organic Makeup
---
Vitality CBD's CBD products are all sourced from organic farms. You can view the organic certifications from the product pages themselves. However, you can also double verify that your VitalityCBD product is free from added pesticides by reviewing the COA. Please look over the screenshot below for a sample COA of a VitalityCBD product. You'll see that the PPM (parts per million) is well within the ranges indicated by organic definitions. You can view the entire detailed list of pesticides on pages three and four of this COA: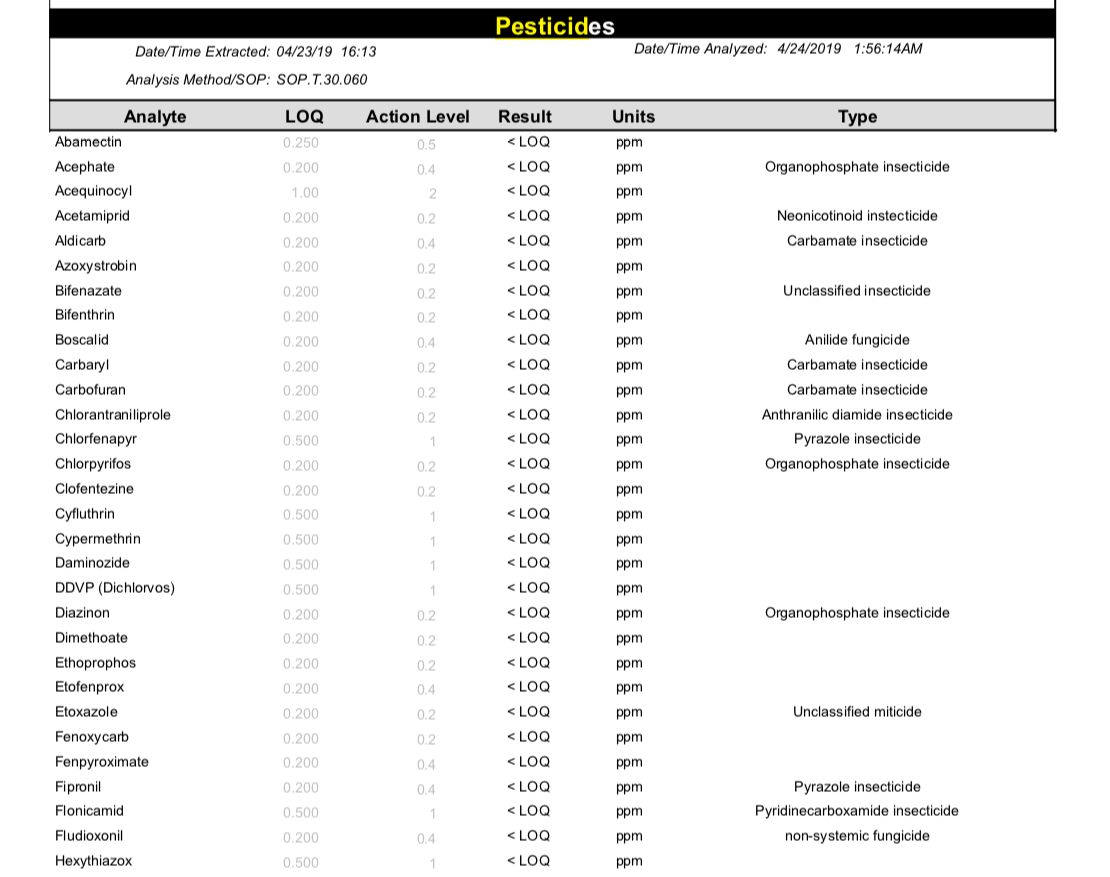 Confirming Safety and CBD Purity
---
Any time a product is manufactured, there is the potential for contamination by ingredients that shouldn't be in there. As a consumer, you shouldn't have to worry about things like toxins appearing in your CBD products. Unfortunately, not all companies are so careful as Vitality CBD. This is why it's important to check for the presence of residual solvents. The scientists who prepare these COA reports include a detailed analysis of residual solvents, which you can easily view, starting on page five of this sample report: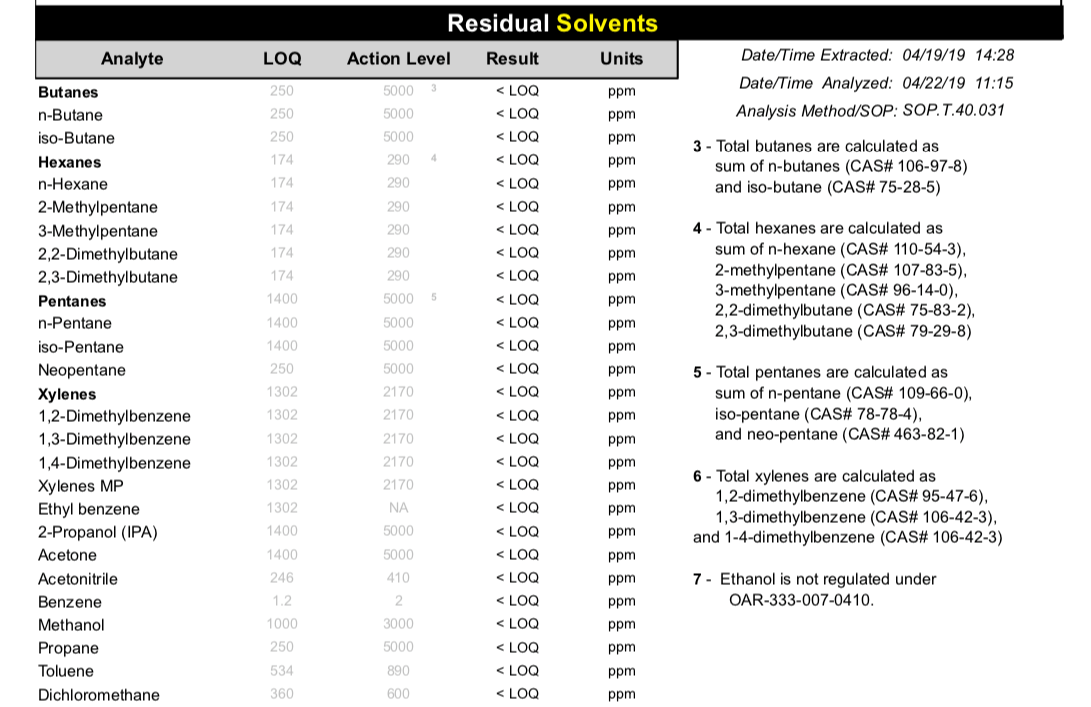 ---
At Vitality CBD, we respect our customers' right to CBD purity and the right to know exactly what is in the products we sell. That is why we use third-party testing facilities that are completely separate from us. CBD lab testing lets us be confident of the products that we sell to our valued customers. It also lets our customers judge our company and our products for themselves. Hopefully, this review of how to learn to read CBD lab reports will be useful to you as you shop our product line. If you have any questions or comments, we'd love to hear from you.
---
---
Vitality CBD exists to provide a healthy and natural alternative to the pharmaceutical industry. We embrace charity, sustainability, quality, trustworthiness, and domestic sourcing as our core operational values. All our CBD products are grown, harvested, extracted, and bottled all in American owned and operated facilities. Vitality CBD products are certified Non-GMO, Organic, Vegan, and Gluten-Free. Take 20% off your first online order with code FT20 today!
---