Why Do Vitality CBD Oils Contain THC?
---
As you search for the best CBD oil, you may start to wonder if the products contain THC. Perhaps you are worried about passing a drug test or simply want to know what is in your favorite products. Either way, you can look toward your trusted retailers and manufacturers to find out. But before you head out, here's a few things you need to know about THC levels in CBD oil.
---
A Look at Legal THC Levels
---
Tetrahydrocannabinol, or THC, is a natural cannabinoid found in both marijuana and hemp plants. Although there are hundreds of similar compounds in these plants, THC is the most well-known since it is responsible for causing the high many people feel when using marijuana. The level of THC in marijuana and hemp is not the same, however.
When derived from hemp, CBD oil only has up to 0.3 percent of THC, which is not enough to cause mind-altering effects. Marijuana, on the other hand, can contain up to 30 percent THC, depending on the strain. Retailers can only sell marijuana-derived CBD in states that have legalized medical and/or recreational marijuana. These retailers cannot sell their products online, making in-store purchases the only option for their customers.
If you want to avoid ingesting a lot of THC, then hemp-derived CBD oil is definitely your best bet. This product can only have up to 0.3 percent of THC to abide by federal guidelines, helping you keep the levels in your body quite low. Although you can find some CBD products with no THC, finding full-spectrum versions are quite uncommon.
Usually, a full-spectrum CBD oil or salve will contain THC as the majority of THC free products are created using CBD isolate (powder), which contains only CBD, and none of the other potentially beneficial cannabinoids the hemp plant has to offer.
For the most part, CBD manufacturers focus on creating products that meet the legal THC levels identified by the federal government.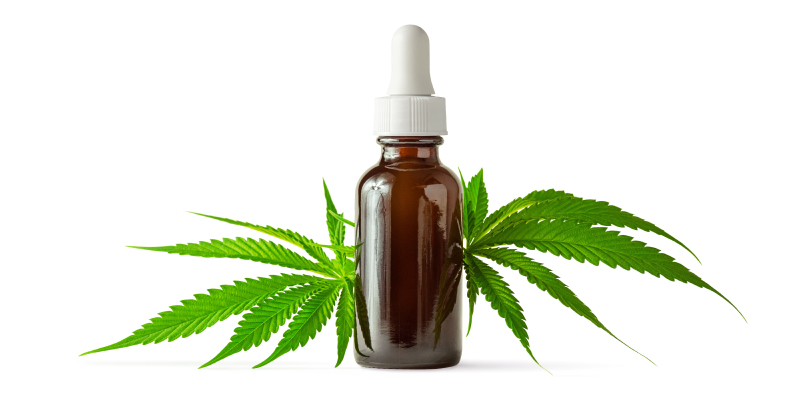 Creating THC-Free CBD Oils and Low Percentage Variants
---
If you want THC-free CBD oil or one of the low percentage variants, then hemp-derived products are the way to go. Since hemp naturally has much lower amounts of THC, it is easier to extract oils with the perfect balance of compounds.
Manufacturers use a solvent-less extraction process to pull the effective compounds out of the hemp. They can then create products that contain only CBD or a more powerful full-spectrum compound while abiding by federal rules.
Throughout that process, they control the amount of CBD that ends up in the final product as well as the THC concentrations. Some manufacturers focus on making THC-free products while others work within the legal THC levels.
Either way, the CBD oils contain CBD in amounts that provide the intended benefits — and reputable manufacturers back up that claim with third-party lab results.
Where to Buy Quality CBD Oil
---
When looking for quality CBD oil, always focus on the retailers and manufacturers that thoroughly test their products. They should provide their third-party lab results for your review, ensuring you can get the right balance of compounds for your needs.
As long as you are not looking for THC-free CBD oil, you can find what you need from Vitality CBD. We always keep our THC levels under the legal maximum by volume, ensuring you get the best balance of compounds possible. We provide third-party test results for all our products to help you breeze through the selection process. Take a look at our products today to find your ideal CBD oil, then complete your purchase online or in-store.
---
---
Vitality CBD exists to provide a healthy and natural alternative to the pharmaceutical industry. We embrace charity, sustainability, quality, trustworthiness, and domestic sourcing as our core operational values. All our CBD products are grown, harvested, extracted, and bottled all in American owned and operated facilities. Vitality CBD products are certified Non-GMO, Organic, Vegan, and Gluten-Free. Take 20% off your first online order with code FT20 today!
---