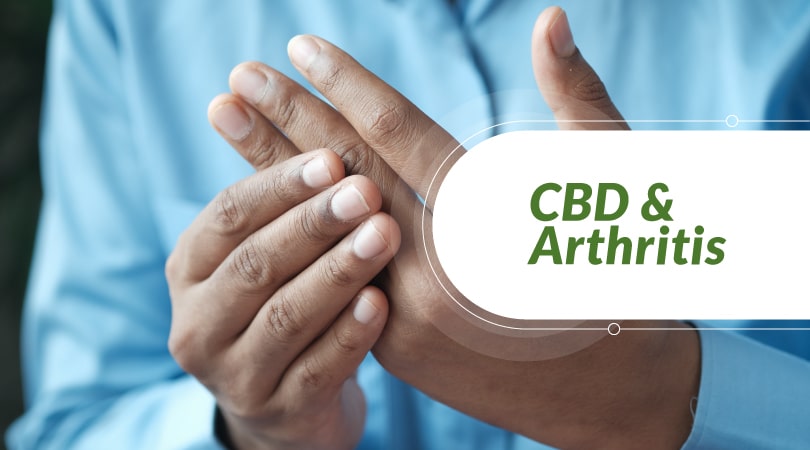 How CBD Helps Reduce the Symptoms of Arthritis
As more research is performed, our knowledge of CBD continues to expand. With its long history of medicinal use, we know that the benefits of CBD derived products are promising. Still, it's important that consumers know why the products aid us in our journey to a healthier and happier lifestyle. Rather than just telling consumers that a product works, our goal is to show them how it works so that the effects of CBD are better understood.
While CBD products are used for a range of motivations, health is among the top priority for many consumers. One of the new areas that we're excited to explore is whether CBD can have a positive effect on the symptoms of arthritis.
What Is Arthritis?
Arthritis is the swelling and tenderness of one or more joints. Though there are different underlying causes depending on what type of arthritis a person has, there are certain factors that increase the risk of obtaining it. This includes age, previous joint injury, family history, sex, and obesity.  
Symptoms of arthritis include:
Joint pain

Stiffness 

Muscle aches

Fatigue

Discomfort due to temperature changes
Those who suffer from this condition understand how it can affect their quality of life, which often impacts their ability to work or perform everyday tasks. An important factor to point out is that arthritis is an inflammatory condition; the inflammation increases the symptoms and reduces the body's ability to move smoothly. By understanding the impact inflammation has on arthritis, the connection between CBD and arthritis can be better understood. We'll discuss this more below.
Does CBD Help With Arthritis?
CBD is one of the active compounds in the cannabis plant that has a rich history regarding medicinal uses. Thanks to its natural pain relieving components, ability to relieve anxiety and improve our quality of sleep, we're motivated to investigate further to discover how the natural components of the cannabis plant can be utilized.
While research regarding CBD and arthritis is still limited, our knowledge on these two topics helps us infer the outcome. As mentioned, arthritis is an inflammatory condition, and it just so happens that CBD has anti-inflammatory properties that may help in managing this condition.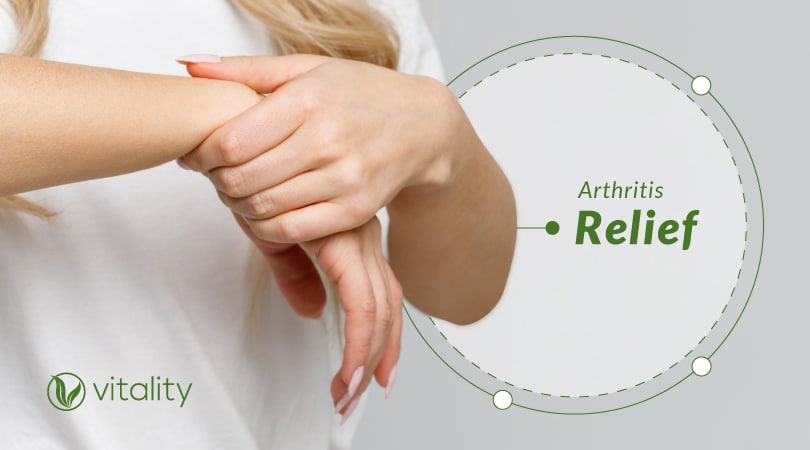 CBD reduces inflammation by inducing apoptosis, inhibiting cell proliferation, suppressing cytokine production, and inducing apoptosis and T-regulatory cells. While studies on humans are limited, researchers have investigated the effects of CBD on rats. This 2016 study states, "These data indicate that topical CBD application has therapeutic potential for relief of arthritis pain-related behaviours and inflammation without evident side-effects." This shows promising results, meaning more studies should soon follow.
How Does Decreased Inflammation Affect the Symptoms of Arthritis?
Now that we've discussed how CBD can reduce inflammation, it's crucial to note the real importance of this. Inflammation and arthritis go hand in hand; in fact, joint inflammation is the main culprit behind joint damage, stiffness, swelling, and pain. While some medications solely aim to help patients numb the pain, CBD works to decrease the underlying cause. This, in turn, plays a significant role in helping patients reduce their symptoms and live a healthier, more comfortable life.
As mentioned in one of the studies, CBD doesn't display evident side effects. This differs from typical arthritis medications whose side effects often include nausea, vomiting, abdominal pain, and headaches. By using CBD as a natural alternative, users can benefit from the anti-inflammatory and pain relieving components that CBD products offer.
To receive maximum benefits, consumers should opt for high-quality CBD with third-party testing. At Vitality, our products have a USDA Organic Certification, meaning that consumers can feel confident that the products are extremely pure, potent, and effective. While both CBD oil and CBD salves can be utilized for arthritis, topical CBD seems to be a popular option in regards to soothing the symptoms. When applied to the desired area, CBD absorbs into the skin and interacts with the cannabinoid receptors. This helps relieve the symptoms and provide a soothing effect, which is ideal for anyone dealing with muscle aches or joint pain. 
If you have any questions about our products, please reach out to us at Vitality. We'll gladly help you find the right product depending on your situation and symptoms.
FAQ
How much CBD to use for arthritis?
There is no one-size-fits-all when it comes to dosage since everyone has a different tolerance. However, we have a dosage guide to help consumers get a better idea of how much to consume based on their weight and physical effect range. Click here to learn more.
Is CBD good for arthritis?
As stated in this article, CBD helps decrease inflammation. This, in turn, helps reduce joint damage, stiffness, swelling, and pain. CBD also has no evident side effects when compared to other common arthritis medications.